TOWING KITS FOR TRUCKS
If you're looking for a quality repo wheel lift capable of converting your vehicle into a full-service tow truck, Lift and Tow has the cost-effective solutions you're looking for. Our repo wheel lift for trucks easily install on ¾-ton and larger pickups and come in a variety of models and options to meet your specific requirements. Our kits are compatible with most medium to heavy-duty pickup trucks including the Ford F Series, the Chevy/GMC lineup and the Ram/Dodge line of medium-duty trucks. The towing system attaches to the underbody of the truck and is completely concealed from view when not in use.
Whether you're starting your own towing business, want to increase the versatility of government vehicles or are expanding your commercial tow truck fleet, our wheel lift systems save time and money while reducing manual labor for light to medium-duty towing operations. Watch our wheel lift in action to see what our product looks like in real time!
CHOOSE FROM THREE TYPES OF HIDDEN TOWING SYSTEMS
Lift and Tow truck wheel lift systems feature a subframe that's adjustable in length and width for compatibility with many vehicle models. You can learn how to use wheel lift attachments so you're always in control while operating.
Our dynamic slide in wheel lifts include features such as adjustable arms and expandable wheel lift shoes that provides the versatility to tow all different cars, vans and trucks. All of our repo wheel lifts for trucks are made in the U.S.A. and are constructed of exceptionally robust and durable materials for lasting performance. Products are backed by a one-year limited warranty on manufactured parts.
Find the truck wheel lift systems that are right for your truck or commercial towing business. Models include:
Super Series is an automatic self-loading wheel lift that installs easily on ¾-ton trucks and larger can lift as much as 4,000 lbs. and tow up to 8,000 lbs.
Z Series towing equipment is remote controlled and completely self-loading with powered in and out, up and down and open and close. It's the fastest and most reliable repo towing system for trucks on the market, making it possible to tow a car, van or pickup without ever stepping outside of your cab.
5 Series truck wheel lift systems offer 4-function hydraulic power up, down, in and out. An advanced version of our 3 Series, this hidden wheel lift is designed to help busy towing drivers work faster and safer with fewer labor requirements.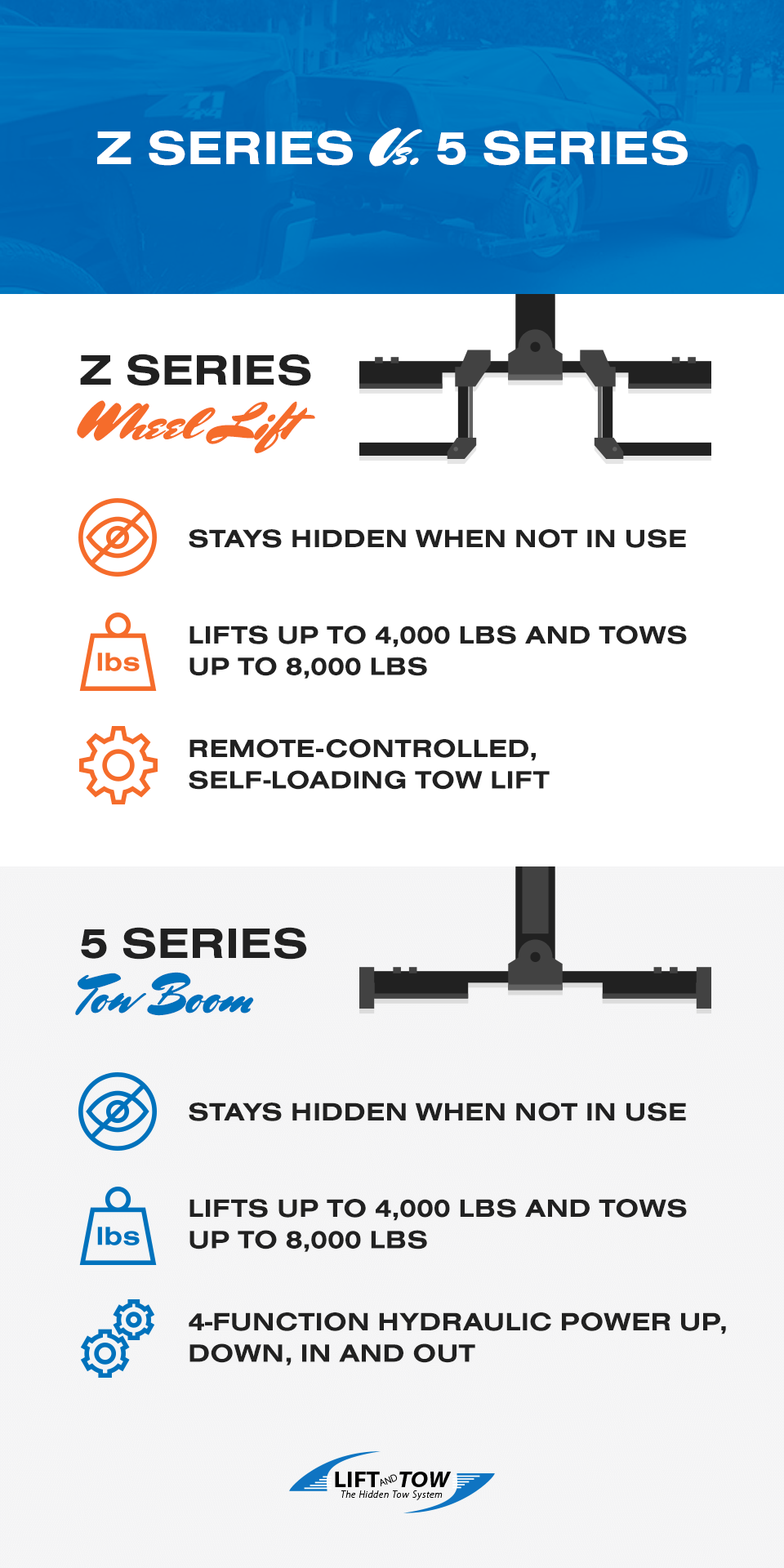 Watch our Z Series in action below:
CONVENIENT REPO WHEEL LIFTS FOR LIGHT TO MEDIUM-DUTY TRUCKS
Our tow kits for trucks ship with all of the hardware and instructions you require for a quick and easy install. You have the option of attaching the equipment yourself using our detailed manual or arranging for installation from a skilled and experienced professional. Choose the right repo wheel lift, installation method and optional springs and accessories you need, and we'll ship them to you fast, nationwide.
When you order repo wheel lift systems from us, you benefit from a reliable company successfully in business for over 20 years. From great prices on quality products to customer service and support from knowledgeable live representatives, we're the one-stop shop for all your needs. Contact us online or give us a call at 717-496-0839 for assistance choosing the right products and place your order for a Lift and Tow hidden towing system today.
Wish I could give them zero Stars
Deronta Franklin
2021-11-19
Really enjoy working with this gentleman. Decent operating facility with a good ground on its performance. Definitely a smaller company but can stand back and just see it growing. I don't look elsewhere because I haven't been giving a reason to.
Great place... couldn't ask for better customer service
We had a fantastic experience with Lift and Tow when they installed our Z series lift in January. Our employee, Alex, said the staff was very helpful and informative when he was there. They even provided a loaner car during the day while the installation was being completed. The cost was great and very affordable when compared to units from similar companies. We'll definitely use them again in the future.
Very friendly, quality work. Very professional. Thanks for everything Eugene
Damion Mitchell
2021-02-14
I lost some parts off my lift instead of charging me 600 for new parts they gave me a option for used ones for a little over 100 bucks.. thanks guys also it was at my door in less than 24 hrs...