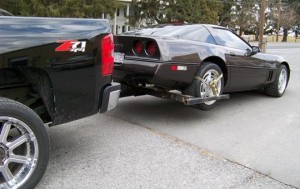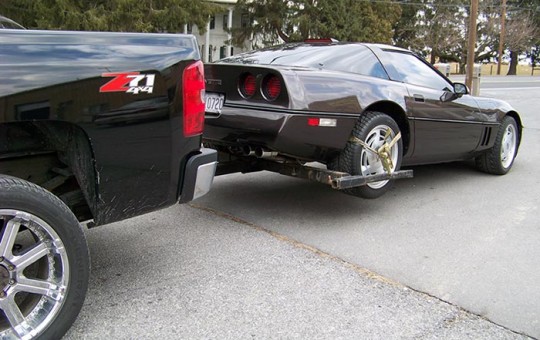 Whether you operate a towing company, run a body shop or work in repo or road-side assistance, owning a traditional tow truck is a large expense. The best way to get the towing support you need without breaking the bank is to invest in a top-quality hidden wheel lift that attaches directly to the underbody of your truck.

What is a wheel lift tow truck? This specialized towing equipment can be installed in just a few hours, and it instantly transforms your pickup into a fast and efficient towing machine.
Using A Wheel Lift For Towing Capabilities On Your Pickup
Hidden wheel lifts are an innovative product used by everyone from towing businesses and repo agents to local municipalities and government agencies. The wheel lift is designed with an adjustable subframe, so you can install it easily on a variety of different model pickup trucks. The tow equipment stays hidden from view when not in use and then smoothly slides out and into place for safe and easy towing.
Once you get the hang of using a Lift and Tow wheel lift, you can pull up to a car, truck or van and tow it away in less than a minute. That's a huge benefit for busy tow drivers who can complete jobs faster as well as for repo professionals who need to act swiftly to avoid a confrontation.
An important step in learning how to use a wheel lift to turn your pickup into a tow truck is choosing the features you need from the following models:
Super Series Wheel Lift – This is our most effective model we've created. It's a self-loading automatic system that allows customers to easily tow SUVs, cars and other vehicles. This unit easily installs on ¾-ton trucks and can lift as much as 4,000 lbs. and tow up to 8,000 lbs.
Z Series Self-Loading Wheel Lift – Known as the ultimate repo pickup truck wheel lift, the Z Series practically tows cars itself. With 6-function, automated hydraulic control up and down, in and out and side to side, all you need to do is back up to the vehicle you're towing and use the remote control to hook it up and drive away. You never have to leave the driver's seat!
5 Series Underbody Wheel Lift – For full hydraulic control of up and down as well as in and out functions, the 5 Series is just what the doctor ordered. Not only is it more efficient, but it's also less labor intensive for less workplace injuries and accidents.
Using Wheel Lifts for Tow Truck Pickups
When you see how simple it is to use a wheel lift to tow cars and trucks with a regular pickup, it's easy to understand why so many towing companies and independent drivers are using them. The money you save by not buying a tow truck will go a long way in helping you build your business. Learn more about how to use wheel lift tow truck attachments and the different models available from Lift and Tow today.
Check Out Our Z-Series Self Loading Wheel Lift Tow Truck Video!