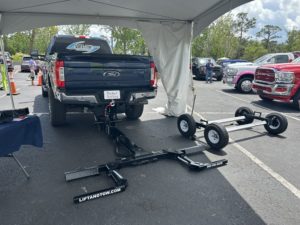 Prices do not include Shipping & and Handling for the Super Series unit. The price above does not include a clutch pump or installation. Clutch pumps are mandated for this lift. Prices will vary for the year, make, model, & engine type for each truck.
SUPER SERIES WHEEL LIFT TOWING EQUIPMENT

The Super Series self-loader wheel lift is the most effective way to transform your pickup into a fully automated and operational tow truck for low profile vehicles. Lift and Tow designs, manufactures, and distributes wheel lift towing equipment that's easy to install, stays hidden when not in use, and provides quick and easy loading. Our innovative Super Series truck and car self-loader repo unit is a tow driver's best friend, delivering a cost-effective solution that improves safety, speeds up the towing process, and eliminates manual labor.
A CLOSER LOOK AT THE SUPER SERIES SELF-LOADER WHEEL LIFT
Lift and Tow's Super Series system makes it possible to tow trucks, SUV's, standard cars, and low profile vehicles, hassle free. Simply back up to the bumper of the vehicle you need to tow and push the button on the remote control inside, or outside your truck with your wireless remote. The eight-function lift powers in, out, up, down, open, close, tilt up, and tilt down by responsive hydraulic control.
Like all products by Lift and Tow, Super Series vehicle towing equipment is made in the U.S.A. by skilled workers. We use high-quality, heavy-duty materials for maximum durability and lasting performance. These self-loading tow lifts are compatible with many makes and models of vehicles. The Super Series installs easily on ¾-ton trucks and larger can lift as much as 4,000 lbs. and tow up to 8,000 lbs.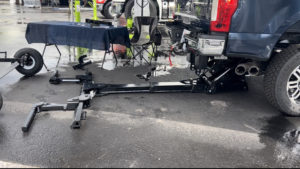 SHOULD I CHOOSE THE Z SERIES OR SUPER SERIES?
Like the Z Series the Super Series is a self-loading automatic wheel lift. While also coming with a wireless remote, the Super Series is clutch pump mandated not only allowing your unit to be faster, but quieter as well. The Super Series was designed to help tow truck drivers be able to have better clearance while towing low profile vehicles, allowing businesses to effectively and safely tow these cars without worrying about potential car damage.
With the tilt up and down functions you can now drop your unit down to a zero degree angle on the ground before sliding under a vehicle to wrap your arms around the tire.
Wish I could give them zero Stars
Deronta Franklin
2021-11-19
Really enjoy working with this gentleman. Decent operating facility with a good ground on its performance. Definitely a smaller company but can stand back and just see it growing. I don't look elsewhere because I haven't been giving a reason to.
Great place... couldn't ask for better customer service
We had a fantastic experience with Lift and Tow when they installed our Z series lift in January. Our employee, Alex, said the staff was very helpful and informative when he was there. They even provided a loaner car during the day while the installation was being completed. The cost was great and very affordable when compared to units from similar companies. We'll definitely use them again in the future.
Very friendly, quality work. Very professional. Thanks for everything Eugene
Damion Mitchell
2021-02-14
I lost some parts off my lift instead of charging me 600 for new parts they gave me a option for used ones for a little over 100 bucks.. thanks guys also it was at my door in less than 24 hrs...
TRUCK AND CAR TOWING EQUIPMENT FROM THE ORIGINAL CREATOR OF THE HIDDEN WHEEL LIFT
At Lift and Tow, we call on over 20 years of experience to provide exceptional service on the towing equipment you rely on. As the manufacturer of the Super Series, we ensure the quality of the product while offering low prices for exceptional value. All towing equipment comes with the necessary hardware you need to get up and running. Either install it yourself using our detailed instructions or if you're in our area, get in touch with our staff for an appointment.
Get the newest wheel lift system from us at a great price. Contact us or give us a call at 717-496-0839 to request additional information.