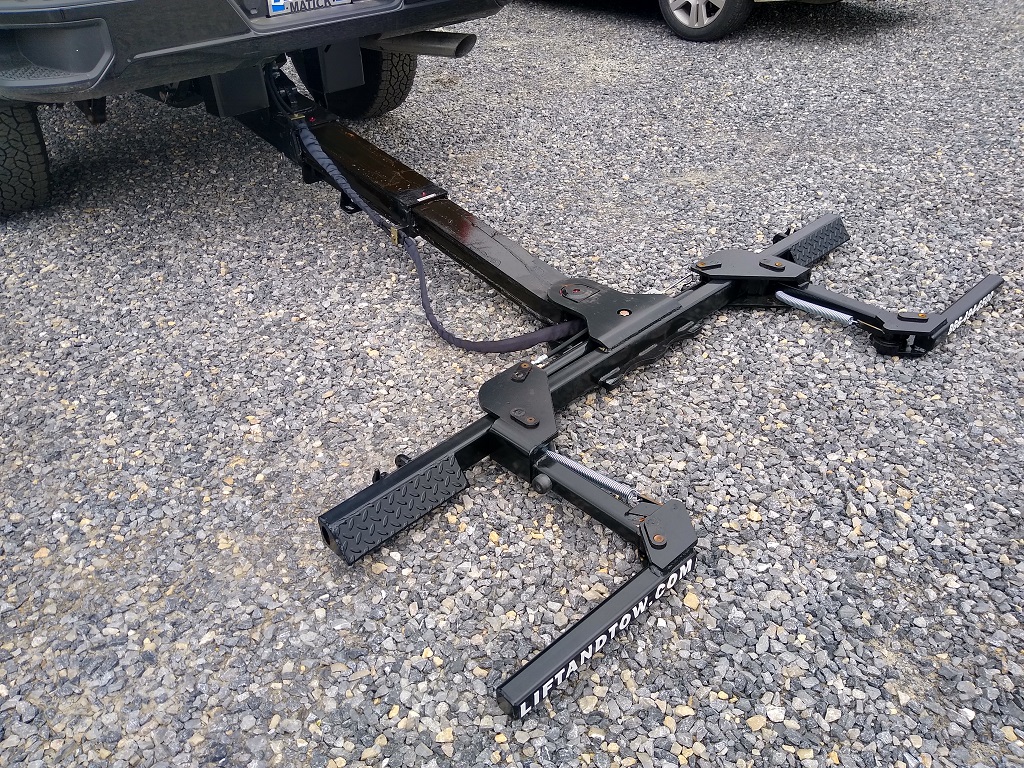 Prices do not include Shipping & and Handling.
Z SERIES WHEEL LIFT TOWING EQUIPMENT

The Z Series self-loader wheel lift is the easiest and most effective way to transform your pickup into a fully automated and operational tow truck. Lift and Tow designs, manufactures, and distributes wheel lift towing equipment that's easy to install, stays hidden when not in use, and provides quick and easy loading. Our innovative Z Series truck and car self-loader repo unit is a tow driver's best friend, delivering a cost-effective solution that improves safety, speeds up the towing process, and eliminates manual labor.
A CLOSER LOOK AT THE Z SERIES SELF-LOADER WHEEL LIFT
Lift and Tow's Z Series system makes it possible to perform a tow job without leaving the comfort of your driver's seat. The perfect solution for repo work and busy tow drivers, this self-loading tow lift does all of the hard work for you. Simply back up to the bumper of the vehicle you need to tow and push the button on the remote control. The Z- Series wrecker wheel lift extends, adjusts, and lifts the car or truck into place. The six-function lift powers in and out, up and down, and open and close by responsive hydraulic control.
Like all products by Lift and Tow, Z Series vehicle towing equipment is made in the U.S.A. by skilled workers. We use high-quality, heavy-duty materials for maximum durability and lasting performance. These self-loading tow lifts are compatible with many makes and models of vehicles. The Z Series installs easily on ¾-ton trucks and larger can lift as much as 4,000 lbs and tow up to 8,000 lbs.
THE MOST EFFICIENT WHEEL LIFT TOWING EQUIPMENT FOR REPO TOWING
Lift and Tow, the original creator of the hidden wheel lift, designed the Z Series wrecker wheel lift for tow drivers who need reliable performance without the large expense of buying a new tow truck. Our self-loader wheel lifts attach to the underbody of your pickup truck and are completely hidden from view when not in use. So whether you need to repossess a car from an owner that's overdue on payments or don't want to be seen driving a tow truck to your day job, the Z Series is an innovative solution that can tow a vehicle in as little as 38 seconds.
Additional benefits of investing in a self-loading wheel lift include:
Ability to tow cars, vans, and trucks with less labor and time
Safety towing in high-traffic areas and around other hazards
Comfort working year-round in adverse weather conditions
Check out the Z-Series completing a 38-second tow:
WHY CHOOSE A SELF-LOADING WHEEL LIFT TOW TRUCK?
There are so many reasons to choose a self-loading wheel lift for your truck. Chief among those reasons are the following:
Easy to install and use: You'll be up and running in no time. Installing a self-loading wheel lift is the fastest and easiest way to make your own pickup truck a fully operational tow truck when needed.
Stays hidden: You get the capabilities of a traditional tow truck without having to drive around in one all day, every day. The boom of a self-loader wheel lift fully retracts, keeping it completely hidden from view when not in use.
Stays safe: Just because a self-loading wheel lift is easy to use doesn't mean it's any less safe than using a traditional tow truck. When hauling with a self-loader wheel lift, you can rest assured that you and your load are secure.
Cost-effective: With a self-loading wheel lift, you don't have to invest in a traditional tow truck — saving you thousands, if not tens of thousands. It's hard to beat a cost-effective solution like that when you tow on a regular basis.
Full hydraulic operation: When using a self-loading lift, you get the benefits of a complete hydraulic system which means you never have to leave the comfort of your truck!
Wish I could give them zero Stars
Deronta Franklin
2021-11-19
Really enjoy working with this gentleman. Decent operating facility with a good ground on its performance. Definitely a smaller company but can stand back and just see it growing. I don't look elsewhere because I haven't been giving a reason to.
Great place... couldn't ask for better customer service
We had a fantastic experience with Lift and Tow when they installed our Z series lift in January. Our employee, Alex, said the staff was very helpful and informative when he was there. They even provided a loaner car during the day while the installation was being completed. The cost was great and very affordable when compared to units from similar companies. We'll definitely use them again in the future.
Very friendly, quality work. Very professional. Thanks for everything Eugene
Damion Mitchell
2021-02-14
I lost some parts off my lift instead of charging me 600 for new parts they gave me a option for used ones for a little over 100 bucks.. thanks guys also it was at my door in less than 24 hrs...
TRUCK AND CAR TOWING EQUIPMENT FROM THE ORIGINAL CREATOR OF THE HIDDEN WHEEL LIFT
At Lift and Tow, we call on over 20 years of experience to provide affordably priced wheel lift towing equipment you can rely on. As the manufacturer of Z Series self-loading wheel lifts, we ensure the quality of the product while offering low prices for exceptional value. All of our vehicle towing equipment ships with the necessary hardware you need to get your towing operation up and running. Either install it yourself using our detailed instructions or if you're in our area, get in touch with us to make an appointment to have your tow lift installed by an experienced professional.
There's peace of mind ordering car towing equipment from a source that stands behind its products and is 100% dedicated to your satisfaction. Our highly trained team is available to answer all your questions and provide attentive customer service and technical support.
Get the fastest self-loader wheel lift repo towing system on the market at a great price. Affordable financing options are available. Contact us or give us a call at 717-496-0839 to request additional information or for assistance with placing your order.
Z
Series

Gallery