If you have aspirations of becoming a tow truck driver, you should know there's more to it than hauling broken down vehicles.
What does it take to be a tow truck driver? You need the proper training, licensing and certifications as well as interpersonal skills and sufficient physical fitness. Being a tow truck driver takes hard work and dedication. But without towing professionals, many drivers would be stranded on the road with no help. If you want to know how to become a tow truck driver, the following guide will show you what it takes.
Table of Contents
What Are the Basic Prerequisites for Becoming a Tow Truck Driver?
Towing professionals help with various situations, including abandoned cars, vehicle breakdowns, car accidents, illegal parking, impoundment and roadside assistance. The job may involve traversing and navigating all sorts of roadways from windy country roads to jam-packed highways to steep hills and mountains to bustling city streets.
Regulations related to being a tow truck driver vary from state to state in the U.S. Most need you to pass a series of tests as well as licensing programs. Once you pass, you will then be eligible to operate a tow truck. If you're unaware of what your state calls for, contact the U.S. Department of Transportation. They can point you to the specific laws and guidelines to follow for your state. If you work in an area that closely borders another state, you may need certification for both.
Basic stipulations of becoming a tow truck driver include:
Age and education
Physical assessments
Driver's license
Background checks
Proper training
Check out the following details to see if you could meet the five requirements of becoming a tow truck driver.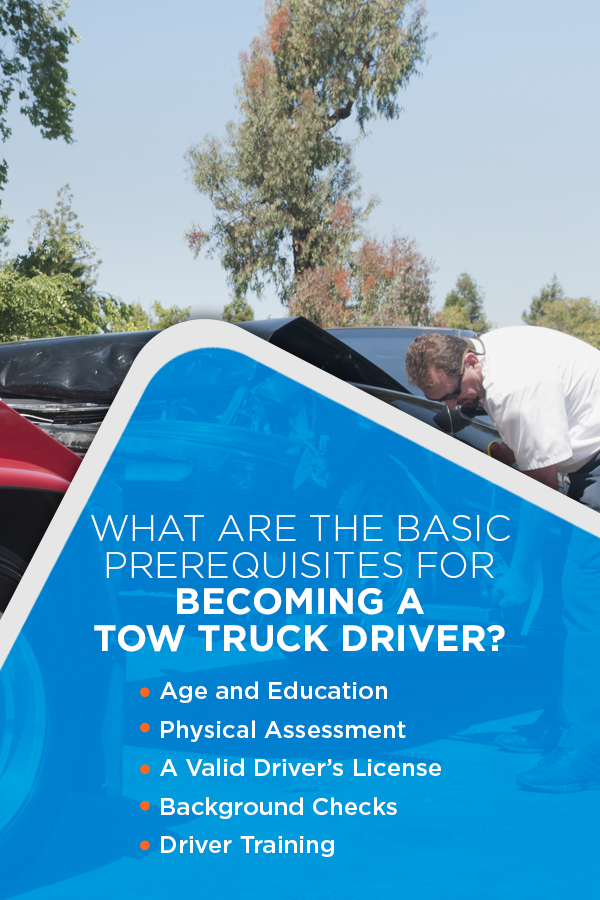 1. Age and Education
You must be at least 18 years or older to operate a tow truck. However, many companies require several years of experience, making the typical ages to begin driving between 21 and 25. It's not a requirement to have a specific education, but many employees like to see at least a high school diploma or a GED.
2. Physical Assessment
Towing companies often like to see that you can pass a physical exam that includes vision, hearing and a drug test. You must be in good health to keep up with the physical demands of the job.
You should be able to lift and operate heavy equipment such as tow chains and tires. Can you work in various weather conditions? Can you drive in different elements like the snow, rain, hail and wind? What about shoveling out a car that's snowed in? A tow truck job requires mental and physical strength.
When it comes to vision and hearing, can you see long distances and navigate through tricky traffic patterns? Do you have good eyesight for both short and long distances so that you can hook up cars and maneuver equipment? Excellent hearing is also essential when working at an accident site or other busy area.
Some employers may even require that you take a drug test to become a tow truck driver. They're looking to see if you're drug-free since heavy machinery is a central component of the profession.
3. A Valid Driver's License
Not only is it fundamental for you to have a standard state-issued driver's license but also for you to hold a clean driving record. Do you have a history of speeding, traffic violations or DUIs? Your file will give employers an idea of how you handle the road and if you practice safe driving.
4. Background Checks
Sometimes your employer may run a criminal background check because you have the potential to be in charge of moving people's valuable possessions. While the car itself is expensive, sometimes, so are the items inside. You must be a trustworthy tow truck driver to move cargo from one place to another safely. Some states may require you to get fingerprinted.
5. Driver Training
It's easy for a new tow truck driver to learn skills while on the job by shadowing experienced drivers or working as an apprentice. On-the-job training is one of the best ways to learn about a company's specific policies, safety procedures and strategies. While there may not be any educational background needed, you can gain experience, then pursue your certification. From there, your certification will verify that you learned the essential skills to advance your tow truck driving career.
You can also communicate with other tow truck operators to find out what companies and firms offer the best training in your area. If you move from one towing business to another, each one will train you as a new employee so that you understand their policies. Even when you complete your training, licensing and certification goals, continue taking classes and state-specific educational courses to keep yourself up to date.
Now, what's the next step? Licensing and certification are the next stages in pursuing your tow truck driving goals.
What Licensing Do I Need?
While there is no law stating you need a license to become a tow truck driver, the federal law — according to the United States Department of Transportation — says you must hold a commercial driver's license, CDL, before towing more than 26,000 pounds.
Some states may require any tow truck professional to have a commercial license regardless of how much they tow. Again, licensing is dependent on various state regulations, but most states will require a CDL license before you can obtain a towing job.
Light-duty trucks can weigh about 14,000 pounds, medium-weight vehicles are at least 26,000 pounds, and heavy-duty trucks can reach 48,000 pounds.
You can acquire a commercial license through in-person training, plus a written exam. Once you pass the driver's test, you have a massive competitive advantage when looking to be hired. You also become a more versatile candidate.
Certifications to Be a Tow Truck Driver
When you're ready to take the next stride in your tow trucking endeavor, you can conduct your certification in-person or online through the Towing and Recovery Association of America. The certification program is available for those who already have experience in towing. TRAA creates national standards for tow truck drivers, and the training covers aspects like customer service, safety, equipment, truck maintenance and incident management.
Three levels of certification exist.
Level 1 – Light Duty: At the first stage, you must meet all your state's driving requirements for light-duty training. You will also need 90 days of tow truck experience within the last five years. Level one certification includes a test with 100 questions. You will receive the certificate within several days of passing the exam. With level one certification, you can operate a truck with a Lift and Tow hidden wheel lift.
Level 2 – Medium/Heavy Duty: The second certification program is the middle level that entails one year of employment as a heavy or medium-duty tow trucker. Other prerequisites include one year as a recovery operator as well as having a commercial driver's license. You also need level one certification. Level two's test has a written section on theoretical knowledge as well as an oral segment to examine how you would respond to realistic situations.
Level 3 – Heavy Recovery Specialist: The final level is where you receive your heavy-duty certification. You will need a commercial driver's license, including endorsements and a level two certification. Two years of professional experience is also necessary. The exam has a written segment to test your theoretical awareness and an oral portion like level two.
Lift and Tow suggests that you continue with your certification until you reach the third and final tier. It will help you become a well-rounded tow truck driver that's capable of responding to a variety of jobs.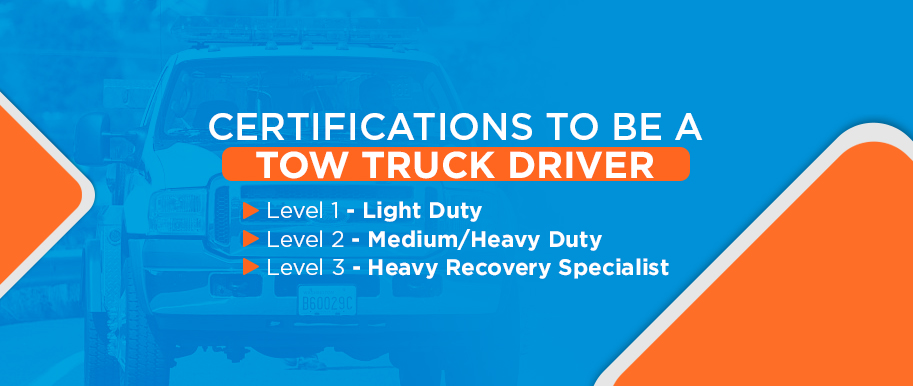 Types of Tow Trucks You Can Operate
There are three types of tow trucks that you can operate. While you often have one assigned to you, it's important to know the limitations and operations of each if you start working your way up to more complicated tasks.
1. Conventional
Also known as a hook and chain truck, conventional towing vehicles are what most people think of when they picture a tow truck. The truck wraps its chains around a vehicle's axel and frame while the back arm of the truck lifts the car to where the back or front two tires lift off the ground. Slip the vehicle in neutral, and you have an easy towing rig.
Conventional towing machines are not as popular as some other types because the chains can scratch car paint. Therefore, they are a popular choice for when accidents occur. All-wheel drive vehicles can't be towed with a conventional solution because the towing device can damage the driving system.
2. Wheel Lift
Similar to conventional tow trucks, the wheel lift — or full float truck — has a metal yoke that raises one of the car's axels, lifting either the front or back tires off the ground. But hydraulics, instead of chains, suspend the truck or car to prevent damage.
3. Flatbed
Also referred to as rollback trucks, flatbeds are ideal for expensive vehicles or vehicles with an excessive amount of damage that prevents the wheels from rotating. They use a hydraulic system to lower and raise a car or truck bed onto the ramp.
Lift and Tow products are wheel lift solutions that get the job done no matter the situation.
Typical Attributes of a Tow Truck Driver
It all comes down to one final question — what does it take to become a tow truck driver?
In any situation you find yourself, patience and the willingness to support people in need is at the forefront of your duties. A person who relies on your assistance will often be frustrated, on a time-crunch, worried, angry or distraught. Their circumstance will often seem helpless until the tow truck driver arrives and saves the day. It's crucial to listen and be empathetic to your customers because we have all been there, and it's never a fun time.
When you get called to respond to an accident, there is potential for exposure to unpleasant sights. You may have to deal with people who are traumatized, stunned or emotional in other ways. Handling high-stress situations can be rewarding, primarily if you can provide critical aid to people in dangerous situations.
Although you don't get to choose the time, place or situation, it's imperative to prepare yourself for anything. You may even experience working in an unfavorable location like a busy highway or deserted road. Having an outgoing personality can also serve you well.
The characteristics of a tow truck driver include being able to handle various working conditions, too. You can't put a cherry on top — plain and simple, it's hard and dirty work. Sometimes, you may be asked to do other things like assist someone who needs help fixing a car or changing a tire. And think about how many people get locked out of their cars every year or need help jumpstarting a battery. You may even have to help with connecting loose wires, replacing spark plugs and adding fuel.
Knowing how different cars and trucks work is another useful ability to have. Understanding how different makes, models and years of vehicles work and knowing how to fix them is vital. What if you're not on a call? You may need to work at the mechanic shop. Transitioning from one role to the next will help you gain an advantage in your tow lifting career.
As a final thought, consider the flexibility required for the job. Being a tow truck driver means you'll have a job every day of the year for full 24-hour days. Cars, trucks and other vehicles need towing at all hours of the day and night, allowing you to work late at night, mid-day or early mornings.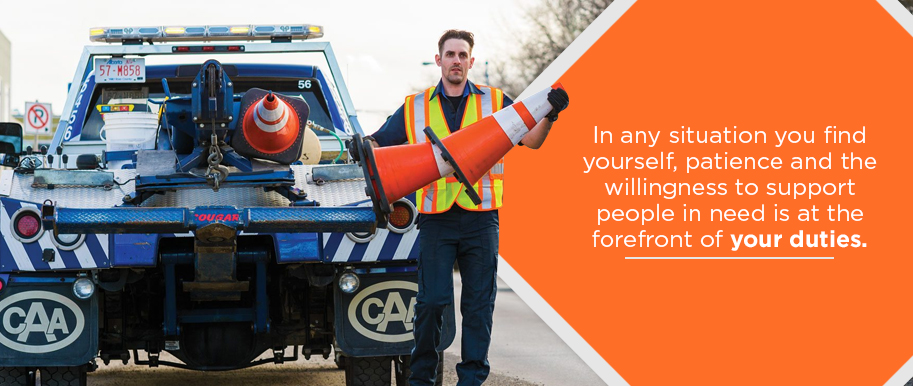 How Do I Get Started?
Starting your career as a tow truck driver starts by applying to tow companies, service stations or auto salvage businesses. Begin by looking at state employment services as well as newspaper ads and internet jobsites.
If you're looking to start your own towing business, Lift and Tow can help translate your goals to reality. We will talk with you one on one about what you're looking to accomplish. Our experts will help you determine which towing product best fits your application and budget.
Any of our repo wheel lift solutions can transform your vehicle into a full-service tow truck. Available in various models, our wheel lifts can install on three-quarter-ton trucks as well as bigger pickups. They attach to the underbody of your vehicle and can easily conceal when you're not working. We will help you choose between our Z, 5 and Super series of towing kits.
Once you have a tow truck ready at the turn of your key, you can start building your business by filling out the appropriate paperwork for your state. If you want to be a single operator, that is certainly an option. But if you're going to build a startup, you will also want to consider how you'll grow your fleet, hire employees and make your mark on the community.
How Much Does A Tow Truck Driver Make?
A typical tow truck driver's salary in the United States is $22.23 per hour. Of course, location and experience play a part in determining a number, but this is generally what people can expect.
Count on the Lift and Tow Professionals
Our tow systems offer fast and efficient loading, incredible durability and the versatility to tow various kinds of vehicles. Our solutions help you avoid buying an entire towing rig and give you the freedom to convert your truck into a multi-purpose vehicle.
Check out our towing products online to see which solution matches your towing expectations. You can also reach out to us online for further support with our towing kits.