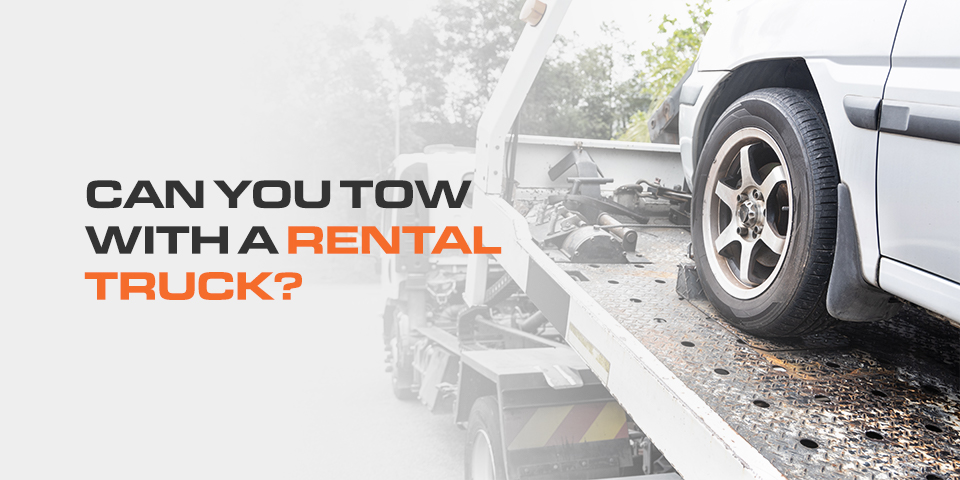 We've all encountered situations where we need to tow something. When you own an SUV or pickup truck, the solution is simple. But what happens if you don't have the appropriate towing capacity to accomplish the task?
Keep reading to learn all there is to know about towing with a rental truck, including towing tips for beginners and things to consider before getting out on the road.
Most rental companies will allow you to use their vehicles for towing, but you'll need to follow their specific guidelines.
Examples of rental car companies that allow towing include:
U-Haul
Budget Truck Rental
Penske Truck Rental
Enterprise Truck Rental
Hertz
It's essential to check the rental company's website and search through their options first. The vehicles they provide will differ based on your towing needs. For instance, depending on your load, you might need a standard pickup or full-sized moving truck. They may also include additional equipment you can rent to help with the towing process.
That means you should also understand your project's size and scope before contacting a rental company.
Considerations to Make Before Towing
After you decide on the rental company to tow with, consider a few things before you get started.
What you're towing: Are you towing something heavy-duty or a standard-sized item? The answer to this question will help you decide which truck to rent.
The weight of the pickup truck you'll need: You can now determine the proper weight of the rental truck for the job at hand. When you opt for a pickup truck rental with a towing package, the company might be able to help you choose the right weight and size. For instance, they'll tend to have half-ton to one-ton pickup truck options depending on the load you're carrying.
The truck bed length: Another essential factor is the bed size you choose for your pickup truck. A small truck bed can result in multiple trips, which means spending more time and money. At the same time, a longer truck bed can be heavier and more challenging to transport, so you'll want to weigh the pros and cons before deciding.
Your experience level: Consider your experience level. There are likely some items you can trust to tow yourself, while others might require professional help, such as heavy-duty items.
The equipment you'll need: You'll likely require towing equipment and accessories such as tow dollies, receiver hitches and safety chains. Some companies include these items when you rent a truck with a towing package. And if you're looking for a wheel lift and other required equipment, Lift and Tow has you covered. We are the original creators of the Z lift series, the industry's most sought-after wheel lift.
The most cost-effective fueling option: Consider the most cost-effective fueling options before heading out on the road with a truck. While gas costs less than diesel, long-distance shipments with diesel engines are much more fuel-efficient and require less maintenance. If you're towing across extensive routes, a diesel engine will help you save money on fuel and maintenance despite the higher cost.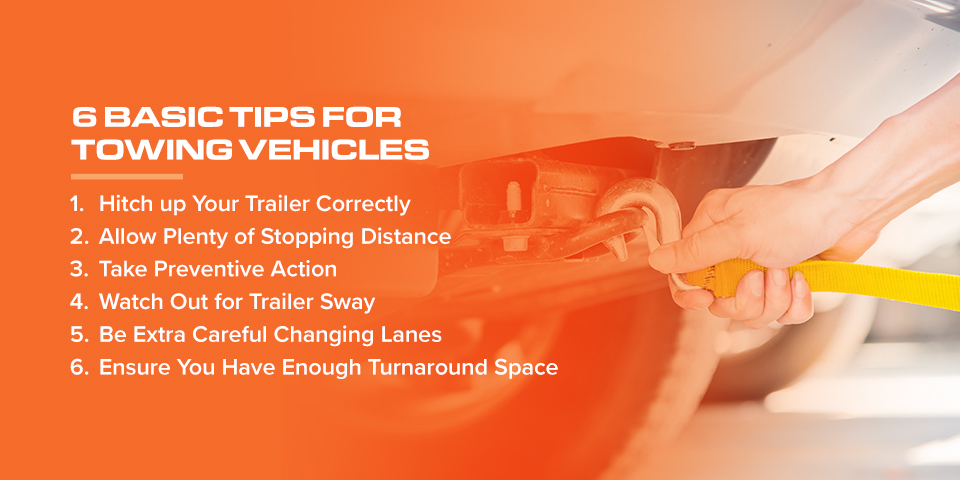 6 Basic Tips for Towing Vehicles

After considering the above essential factors, it's time to start towing. Below, you'll find towing tips for beginners the make the journey as smooth as possible.
1. Hitch up Your Trailer Correctly
Before towing, ensure you've followed the correct procedures for hooking up your trailer. Double-check your connections, including coupler and wiring, and ensure secure connections for safety chains.
2. Allow Plenty of Stopping Distance
For safety's sake, you'll need to increase your following space when towing a trailer. That means creating more distance between you and the vehicle in front of you. It takes longer to stop when you have a trailer hitched to your vehicle than it does when driving without one. When you create distance, you also prolong your vehicle's life, as it prevents sudden braking, maneuvering and accelerating.
3. Take Preventive Action
Driver error accounts for nearly 94% of vehicle crashes. Drive defensively by paying close attention to the road conditions, observing the speed limit and allowing extra space in front of you. Since it takes longer to stop, accelerate, turn and change lanes with a trailer, you'll need to scan the road farther ahead than you usually would.
By being a cautious driver and looking ahead, you can notice problems developing and take action before they occur. As you're towing, observe traffic flow and be ready to react if needed. Be sure to gradually stop whenever possible and anticipate stops by braking sooner than usual.
4. Watch Out for Trailer Sway
Be careful of trailer sway, which causes the trailer to swing back and forth behind you as you drive. This phenomenon can occur due to crosswinds, large trucks, high speeds and downhill grades.
To prevent trailer sway, ensure you keep 60% of the cargo weight at the front of your trailer box and do not overload the tow vehicle. When towing a heavier load, drive slowly and keep a firm grip on the steering wheel to avoid sway from large passing vehicles.
5. Be Extra Careful Changing Lanes
Changing lanes while towing can be incredibly challenging for even the most experienced driver. With a trailer, your blind spots increase, making it more difficult to accelerate quickly. When changing lanes, ensure you have enough space and move slowly from one lane to the other. Tow mirrors can also help increase your view.
6. Ensure You Have Enough Turnaround Space
When driving a tow, ensure you have plenty of space to make a complete turnaround. For instance, you might pull into a parking lot easily enough, but if there's not enough space to back out, it'll require a complicated backup maneuver to get out.
Choosing a parking spot farther away is a strategic way to combat this problem.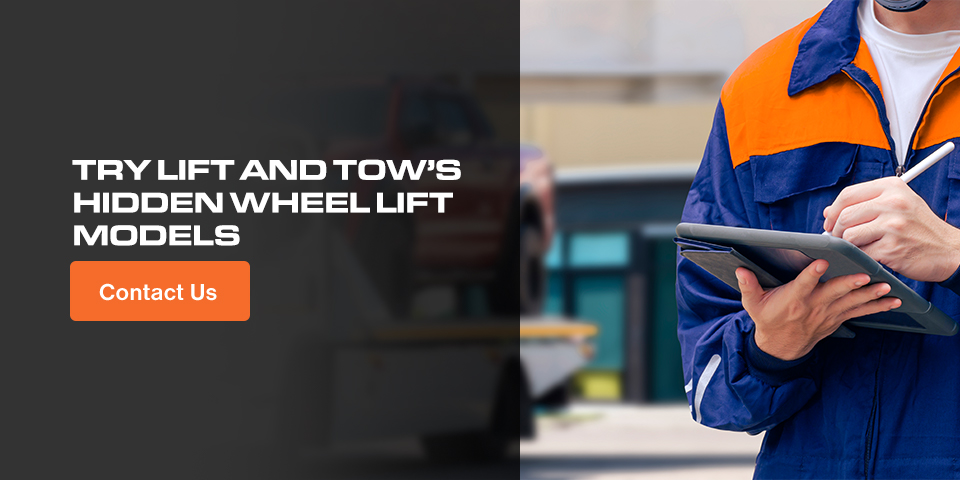 Try Lift and Tow's Hidden Wheel Lift Models
When you rent a car with a towing package, you'll want to follow safety precautions and ensure you have the right equipment for the job.
Lift and Tow is the original innovator and proprietor of the hidden wheel lift. We provide top-of-the-line towing products and equipment to cover all your needs. Our experts prioritize customer service and can help you find the best towing parts and accessories to get the job done right.
To learn more about our towing products, call us at 717-727-0332 or contact us today.