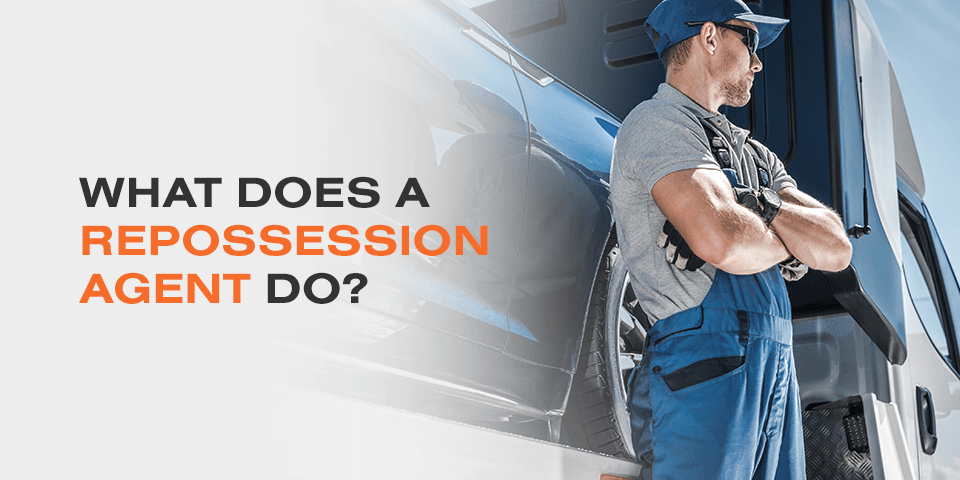 When a loan borrower is unable to repay their loans on a vehicle or property, repossession agents reclaim the property voluntarily or involuntarily. The agents use various methods of collecting these items — and when it comes to cars, tow trucks are usually the go-to option. Generally, depending on your skills, becoming a repossession agent is a job with many benefits. Here's a closer look at a typical day for repo agents so you can decide if it's the right career for you.
Guide For What A Repo Agent Does
Table of Contents
A typical day for repossession agents entails going to reclaim people's possessions. Usually, repossession agents work for companies that specialize in certain types of property. For example, tow truck companies would only reclaim vehicles. However, repo agents can also be independent contractors.
Not all repo agents repossess cars. Some other commonly repossessed items include:
Trucks
Motorcycles
RVs
ATVs
Boats
Private planes
Rented items and technology
In any case, repo agents should expect to be dealing with people who are aggravated and hostile on a daily basis. Some states do allow for peaceful repossession where the borrower gets a second chance to make up the payments, but the majority of U.S. states don't offer this option. It's important to be prepared for any situation when working as a repo agent.
How do repo agents find the cars they reclaim? In the best situation, repo agents will be able to go to the last address on record and locate the car they need to reclaim. That said, agents may have to do a bit more digging to find the property. Utilizing online databases can help. In other cases, repossession agents will have to contact known friends or family or knock on doors.
It's no surprise that people aren't going to want to willingly give up their cars. Therefore, part of the job of repossession agents is to investigate the person of interest and figure out the best way to remove the vehicle from their property. This part may involve towing the vehicle while they're away from their property.
Once the repo agent has the car in their possession, they'll take it to a specific location, where they'll report the recovered property to the proper authorities and complete any paperwork associated with the job.
Duties of a Vehicle Repossession Agent
The daily tasks of a car repo agent will depend on the company and the general unpredictability of the job. However, there are a few general tasks you can expect to be responsible for regardless of the company that hires you. These common job duties include:
Recovering assets for clients
Investigating and tracking down the known locations of cars out for repossession
Towing repossessed vehicles back to the company
Communicating with customers for collections purposes through outbound calls, email, text and chat platforms
Pursuing accounts for full balance collection
Negotiating and collecting past-due amounts
Working with auto shops, dealerships and other agents to manage the status of repossession
The average repossession agent salary also is dependent on the company that hires you. Many repossession companies will include a paid training within the first few weeks of employment. After the initial training process, they'll move employees to commission-based payment.
Other companies may choose to pay their repossession agents a salary. The industry average for repossession agent jobs is around $47,000. That said, the salary range you can expect to see on the job market is anywhere from $25,000 to $70,000 annually. In addition to a salary, it's fairly common for companies to give out bonuses to employees for exceptional work.
On the other hand, the average payment for commission-based compensation is anywhere between $150 and $400 for each vehicle repossessed. The average repossession rate for repossession agents is about four cars a week, so the more experienced agents become, the more money they can make for themselves.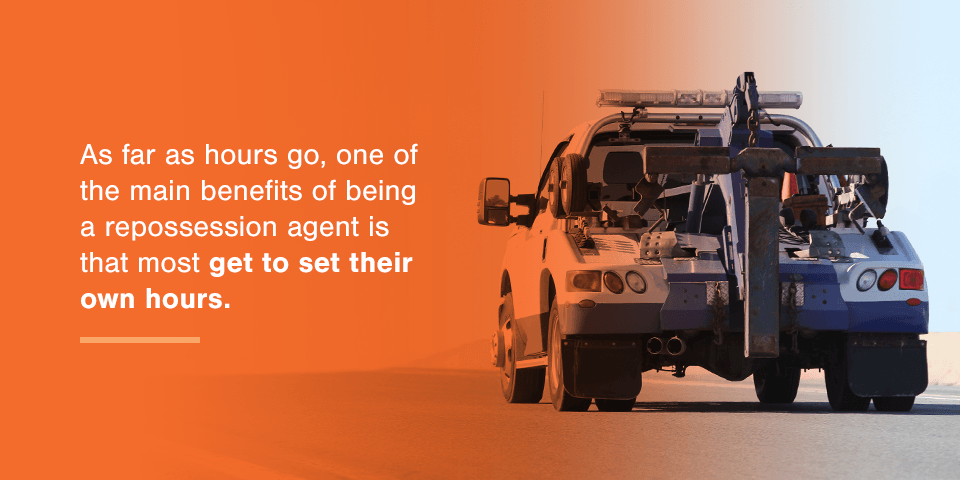 Typical Pay and Hours for a Repossession Agent
As far as hours go, one of the main benefits of being a repossession agent is that most get to set their own hours. For salary jobs, most job listings offer full-time and part-time positions, with schedule options including day shift, night shift, overnight, weekdays and weekends. Other options include working shifts anywhere between eight-12 hours or even working remotely without a direct supervisor.
Additionally, jobs and payments can be dependent on whether the agent is assigned a voluntary or involuntary repossession. If the task is involuntary, your employer will likely increase your commission for that job because of the risk associated with the car owner. If you're paid a salary, you may receive a bonus for each involuntary call that you complete.
Dealing With Difficult People and Clients
It's important to highlight the risks of being a repo agent. Whether you're repossessing vehicles or boats, you'll encounter difficult individuals at least a few times over the course of your career. Even though these individuals have defaulted on their payments, they're having their property taken away from them. It's no surprise that such a situation can make them direct their anger at the repo agent.
Unfortunately, some individuals may become aggressive when an agent tries to repossess their vehicle. Therefore, repo agents should always be ready to assess the scenario beforehand and have ways to defend themselves if the individual becomes violent. Knowing the risks of the job ensures repossession agents are ready to face all types of situations as they go about their days.
Advantages and Disadvantages of the Job
Like any job, being a repo agent has its ups and downs. Here are a few upsides and downsides of working in this field.
Advantages
Overall, the advantages of becoming a repossession agent are that the agent has control over their salary, hours and independence. Additionally, repossession agencies don't generally require their employees to have a formal education, so becoming a repossession agent is a well-paying job you can do without needing to go to college. For the most part, repo work is generally low-effort, as agents don't have to engage in any intense labor.
If you have these abilities, you're on your way to becoming a great repo agent:
Great communication skills
Strong detective and research skills
Calm personality type
Quick problem-solving skills
Adaptability
Knowledge of cars
Disadvantages
The most obvious downside includes potentially aggressive individuals, who could pose a threat to the agent's safety. Even if the individual isn't aggressive, it can be challenging to work with people as you take away their property. It may also be stressful to locate individuals' cars and other belongings in a timely manner.
For some applicants, certain requirements may be a hurdle. While you don't need a formal education, you do need to meet some requirements to become a repo agent. Because of insurance guidelines, most repo agents must be at least 23 years old. Plus, you usually must have a clean driving record and pass a background check.
Other preferences for car repossession jobs are that the applicant has at least one year of experience with driving a tow truck, is familiar with new technology and has a GED. Some states also require agents to get an individual repossession license and bond insurance.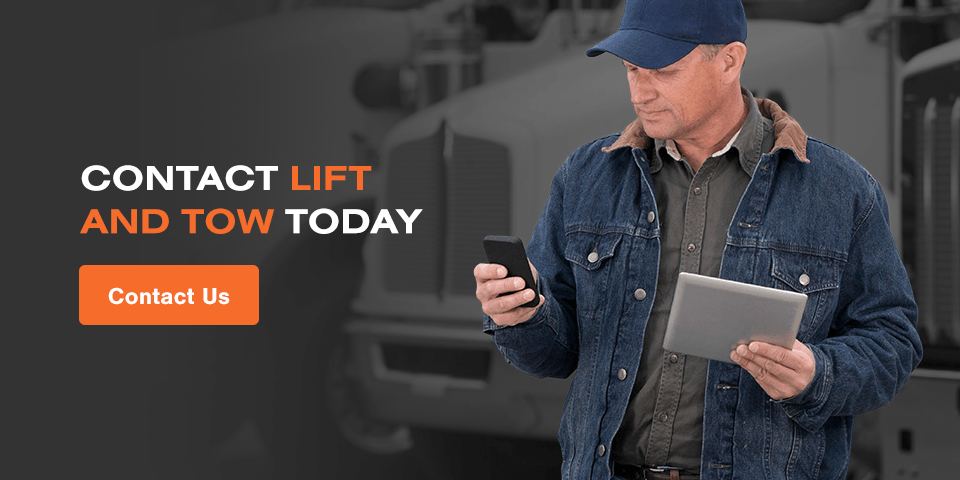 Contact Lift and Tow Today
If you're interested in learning more about tow trucks, Lift and Tow specializes in simplifying the towing process with our line of innovative towing products. At Lift and Tow, we offer top-of-the-line, long-lasting and durable products. Our team of experts provides the industry's highest service level and is knowledgeable about all towing accessories and parts needed to keep your tow truck running smoothly.
To learn more about our towing products, contact us online today or call 717-727-0332.