(Model Discontinued)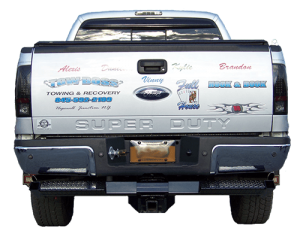 3 SERIES TOW TRUCK LIFT
Lift and Tow, the original creators of the hidden wheel lift, is a leader in providing solutions that make towing jobs easier and more efficient. The 3 Series slide-in wheel lifts deliver a cost-effective way to get the professional towing capabilities you require without having to purchase a traditional tow truck. Our slide-in wheel lifts for sale are simple to install and use, saving you time and reducing the manual labor involved in towing cars and trucks.
THE BENEFITS OF 3 SERIES HIDDEN TOW BOOMS
The 3 Series is a slide-in wheel lift that attaches to the underbody of your pickup truck and is completely hidden from view when not in use. It's an excellent towing solution for municipalities and commercial towing companies as well as independent tow truck drivers and repo agents. The sub-frame is adjustable in width and length for the most versatile hidden tow boom available on the market. Your trucks will look and drive like normal, with the "hidden" ability to tow vehicles in as little as 35 seconds.
Our wheel lifts for sale are compatible with many makes and models of trucks from ¾ up to 1 ½ tons. Constructed of durable ¼-inch steel plating and professionally welded materials, the 3 Series offers an impressive tow rating of 7,500 lbs and can lift as much as 3,500 lbs. With adjustable arms ranging from 12″ to 17″ and wheel lift shoes expandable to 80″, you get a powerful wheel lift unit capable of safely towing most cars, vans and pickups.
Additional benefits of this versatile two-function, slide-in wheel lift include:
Hydraulically-controlled lift and tow system that extends 62″ from the bumper of your truck
Minimal maintenance and easy lubrication with standard grease nipples
Exceptionally strong, 12-inch pivot heads made with ½-inch steel
American-made products from a trusted and reliable source
EASY-INSTALLING WHEEL LIFTS FOR SALE
3 Series slide-in repo units start at $3,895 (not including shipping and handling) and come with the hardware required to turn your truck into a towing vehicle. You have the option of installing the boom tow yourself using our detailed installation manual, and we can also arrange for installation performed at our facility by a trained professional.
Lift and Tow is a trusted and reliable company with over 20 years of experience. We stand behind the products we sell with a one-year limited warranty on manufactured parts, and we back it up with exceptional customer service and support. As the original manufacturer, we're able to provide superior quality at a price that makes sense to your bottom line.
WHY CHOOSE A SLIDE-IN WHEEL LIFT
What are the primary reasons why you should choose a slide-in wheel lift? Here's a look at what you get when you choose a wheel lift slide-in attachment:
Easy to install: First and foremost, a slide-in wheel lift is quick and easy to install. They are compatible with most ¾- to 1-ton pickup trucks, and you'll be up and running in next to no time.
Easy to use: A slide-in wheel lift is easy to use, too. Extend the boom in just seconds when you need to use it. A huge benefit of a slide-in wheel lift is that you don't have to drive around in a traditional tow truck.
Adjustability: A slide-in repo lift is adjustable so that you can haul almost any type of car, pickup truck or van.
Safety: A wheel lift slide-in attachment is just as easy to use as a traditional tow truck, and it's also just as safe. You can feel confident hauling a range of vehicles with a slide-in wheel lift.
Cost-effectiveness: Of course, the greatest value is that you don't have to make a huge investment in a real tow truck. A slide-in wheel lift gives you the same capabilities at a fraction of the cost.
GET IN TOUCH WITH LIFT AND TOW ABOUT 3 SERIES SLIDE-IN WHEEL LIFTS
If you have a question about our hidden slide-in wheel lift systems, give us a call at 717-496-0839 or contact us online for more information. Our friendly and knowledgeable team will provide expert advice to ensure you choose the products and features that make the most sense for your business.
3
Series

Gallery