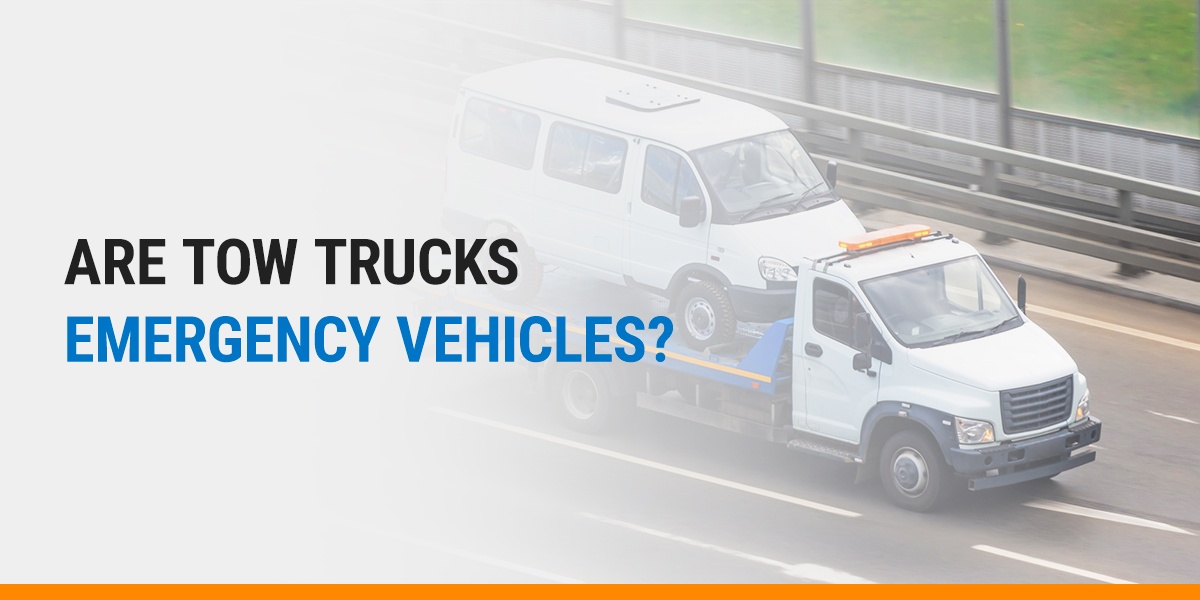 Though the answer is technically "yes," regulations regarding their use are somewhat different. States have different requirements, but generally, any vehicle responding to an emergency is considered one which is why tow trucks are emergency vehicles.
Table of Contents
What Qualifies as an Emergency Vehicle?
An emergency vehicle is any vehicle used to respond to emergency situations. Tow trucks, which help with auto-related crises, fit into this category.
When is a wrecker an emergency vehicle? Once the state patrol has approved it in writing, any car or truck can be an emergency vehicle. However, even if your car or truck has earned designation as an emergency vehicle, it doesn't mean you'll be able to do all the same things you could with a police car or fire truck.
Do you have to pull over for a tow truck? Can tow trucks have sirens or run red lights? Unlike a police car or ambulance, tow trucks cannot violate traffic laws. They do not have the right of way, and other vehicles do not need to pull over for them. They are only emergency vehicles on the accident scene and must observe the speed limit going to and from the site.
Another difference between tow trucks and other vehicles is the use of emergency lights. While tow truck operators must equip their tow trucks with revolving or flashing lights, they can only activate these when their truck is actively performing the kind of work for which it received its designation as an emergency vehicle or is near an emergency response area.
Is There Any Legislation for Tow Truck Lighting?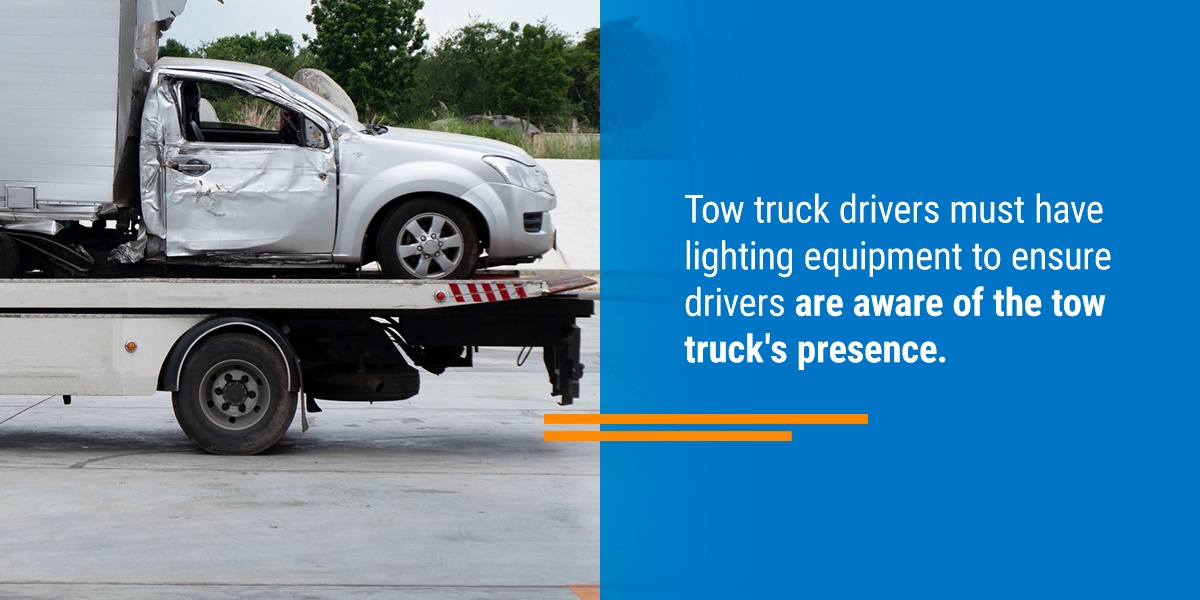 The law requires tow trucks to have warning light bars on the exterior and interior. These high-intensity amber and white-flashing LED lights warn other motorists there is a tow truck at work. Whether it's helping police at a traffic stop or pulling a minivan out of a ditch, tow truck drivers must have lighting equipment to ensure drivers — especially those who aren't paying full attention — are aware of the tow truck's presence. These lights are especially critical at night or in inclement weather.
Before going any further, it's essential to note that requirements regarding lighting on tow trucks vary from state to state, so keep in mind that we will be speaking about general specifications.
When putting warning LEDs on your tow truck, it's crucial to be familiar with the legislation that controls its usage. Generally speaking, the following three organizations oversee light bars and other tow truck lighting requirements.
NHTSA and FMVSS
The NHTSA and FMVSS 571-108 specify requirements for original and replacement lights and other related accessories. This code aims to lower the number of deaths and injuries caused by traffic accidents by requiring higher illumination standards. Proper lighting use increases vehicles' visibility, including tow trucks, on roads at any time of day in any type of weather.
FMCSA
The FMCSA also has regulations for light use on tow trucks, particularly pertaining to turn signals on tow truck dollies. This law stipulates that tow trucks have visible turn signals. If the dolly you use blocks your vehicle's turn signals, you'll need to install additional lighting.
What Color Lights Should My Wrecker Have?
State and local agencies regulate warning light colors for tow trucks. Most agencies require the following:
Stock lighting such as headlights, taillights and backup lights are white.
Rear-facing lights, as well as side markers on a tow truck's rear, are red.
Clearance lights are an amber-colored LED light bar.
For colors on other types of lights, there's more variation from one location to another. For instance, many states permit tow trucks to have amber-colored warning lights, and some require tow trucks to have oscillating strobe lights or rotating lights in a specific color or color combination. Before you install lighting equipment on your tow truck, check state and local legislation regarding light colors.
Federal legislation stipulates tow truck owners can install extra lighting if it doesn't make the stock lights less effective and doesn't confuse other motorists on the road.
Browse All Our Hidden Tow Lift Accessories
Tow truck wheel lift systems have a subframe you can adjust in width and length, making it compatible with a wide variety of vehicle models. Our dynamic slide-in wheel lifts have features including expandable wheel lift shoes and adjustable arms, which give you the versatility to tow all kinds of cars, trucks and vans. Our repo wheel lifts for trucks are all U.S.-made and built with exceptionally durable and robust materials that guarantee long-lasting performance. Our products also come with a limited one-year parts warranty.
We offer several models of truck wheel lift systems, making it easier to find the perfect one for your truck or towing business.
Super Series: Our Super Series is our most sophisticated wheel lift yet! This kit installs easily on ¾-ton trucks and larger can lift as much as 4,000 lbs. and tow up to 8,000 lbs.
5 Series: Our 5 Series systems provide four-function hydraulic power — up, down, in and out. As a more sophisticated version of the 3 Series, the 5 Series design allows towing drivers to work more safely and efficiently with fewer labor requirements.
Z Series: This self-loading, remote-controlled towing equipment feature is powered up and down, in and out and open and close. With the most dependable and fastest repo towing system for trucks available, you can tow a car, pickup or van without even getting out of the cab.
Feel free to check out all our hidden tow lift accessories and other products on our site. If you have any questions about our products, don't hesitate to reach out using our contact form or by calling 717-496-0839. We look forward to helping tow truck drivers like you find the right accessories for your wrecker!